Making Decisions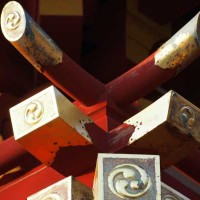 The supreme way is not difficult,
when you just stop choosing.
Is there no love or hate,
then all is open and clear.
(Shinjin Mei)
Every day we have to make a lot of decisions both at work and in private life. Whether they relate to small things orsometimes about the big questions of existence, and we have to make our choice. Are we, for instance, intending to do our job for years and years in the same way; are we able to continue working together with this colleague; how to deal with arising conflicts? We are confronted with all kinds of dilemmas. In spite of that, Zen indicates to make no choice at all. How is it possible?
Actually, Zen teaches that we should just consider the present moment in a mindful way and endure the dilemma we meet, even when a conflict shows up. It requires all of our courage to make no decision and just wait until a decision unfolds on its own, by insight that is not caught in love or hate. Then all things will be open and clear.
Photo: R. Seitz
———————
Next training "Zen for Leadership" in Benediktushof from 28.2.-2.3.16.
See informatie and registration.