Success and Happiness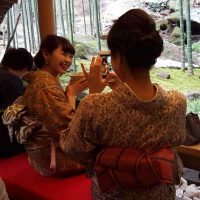 Success is not the key to happiness
But if you love what you are doing, you will be successful
Buddha
It frequently happens that we have to do the tedious work at the office and our daily happiness is far away. What is the cause of this? Is it the work itself to blame, the workload of your job, or your pursuit of excellence?
Perhaps we focus too much on measurable success indicators instead of looking for mutual cooperation and improving the work atmosphere. If you do what you love you will be successful. This means doing your work wholeheartedly. This may not be feasible for 100%. But it is possible to accomplish this for 70%. To reach this state, it's important to develop an open attitude that can give and receive affection. This creates a mutual cordiality which contributes to the mutual working atmosphere and also improves the common result.
Try it out. When you start your workday, greet your colleagues with a friendly attitude and see what effect this has.
---
Sometimes it is necessary to go far away – in order to return to oneself
With Zen For Leadership in Bali all the conditions are in place to restore the balance between body and mind. This is especially true for people in leadership positions. Workload appears to many a constant challenge. This program is aimed for people from a similar professional background. More information.